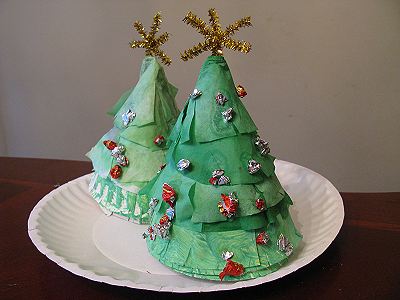 Naturally educational turns a paper plate into a Christmas tree using a painted green coffee filter to give it a more leafy texture. She tops with tin foil ornaments and a gold pipecleaner star.
Good for ages 4 and up.
Get the instructions here:
http://www.naturallyeducational.com/2011/12/paper-plate-christmas-tree-craft/
A little learning for two uses cut paper plates and layers them.
Get the instructions here:
http://alittlelearningfortwo.blogspot.com/2010/12/paper-plate-christmas-trees.html