There are a lot of different methods to help kids learn how to spell. One common way is the have kids write in sand or other powder material like coffee grounds, salt, sugar, or even dirt. Put different types of paper underneath like foil, waxed paper, saran wrap or sticky paper to add more sensory enjoyment.
Mrs. ricca kingergarten creates sight word seashells and lets kids practice writing with their finger in the sand box. Fist she hides the seashells in the sand and as the kids find them they get to write them out.
Get the instructions here:
http://mrsriccaskindergarten.blogspot.com/2013/05/down-by-sea-math-literacy-centers.html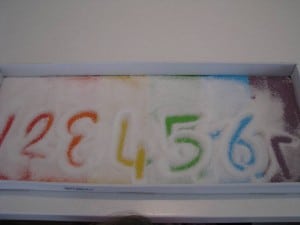 Learning for kids places colorful construction paper under salt to make colorful surprises as the kids write words and numbers.
Get the instructions here:
http://www.learning4kids.net/2012/06/05/rainbow-salt-tray/