Paper bags are so versatile and make an easy idea for a simple craft. Brooks child care shares this simple paper bag whale, decorated with blue paint, and a cute spout.
Good for ages 3 and up.
Get the instructions here:
http://www.brookschildcare.com/2012/04/stuffed-paper-bag-whale-craft/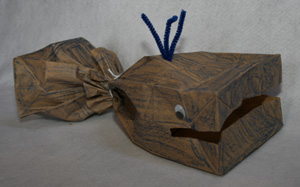 All kids network has a similar craft but cuts a mouth out for the whale, adds a pipe cleaner spout and uses crayons instead of paint.
Get the instructions here: