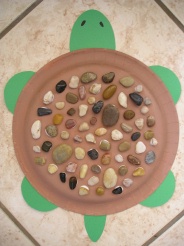 Busy bee kids craft shows how to make a super cute preschool turtle craft making a mosaic using a paper plate, construction paper and pretty polished stones.
Good for ages 3 and up.
Get the instructions here:
http://www.busybeekidscrafts.com/Turtle-Mosaic.html
Because i said so and other mommyisms uses cut squares of green tissue paper and glues them onto a plate to make the tortoise shell. She then adds construction paper legs, head and tale and googly eyes to give it a face.
Get the instructions here:
Partially perfection uses half of a plate and decorates it with squares of scrapbooking paper.
Get the instructions here: