Berudankrayonkami has cute paper dolls and outfits that also double as a coloring activity. They have a great amount of detail so are great for older kids as well.
http://berusdankrayonkami.blogspot.com/2010/05/paper-doll.html
Weelife combines paper dolls and coloring pages by sharing a boy and girl paper doll with clothing that you can color in.

http://living.weelife.com/2008/10/paper-dolls-printables.html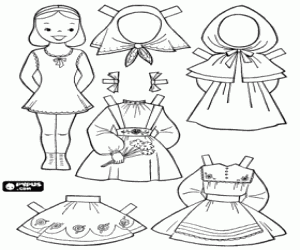 On coloring shares dolls from all over the world, each with their own unique outfits.
Kids printable coloring pages has some historical dolls and even nicer to see healthy figures.
Families online magazine share several Victorian dolls both in color and as coloring pages.
http://www.familiesonlinemagazine.com/kid_fun/paper-dolls.html#.UgMMDm3NmIk